(Rosalynne-L, Alisa-R) It was such an honor to be able to work alongside such creative and empowering women such as these two. I can't wait to do it again!
We ventured to the beautiful Allerton Park and Retreat Center (that I had no idea existed) in Monticello, IL, where I was asked to use my creative juices to put together a rustic tablescape that would compliment the beautiful forest around us. This was my very first time doing prop work for a photoshoot and I was a little unsure of how it was going to turn out but it was a challenge that I had fun taking on. Oh and did I mention, they somehow wrangled me INTO their photoshoot as well!? I even had a "fake boyfriend" to show for it! :)
When putting together this rustic themed picnic in the forest I wanted to make sure I incorporated a lot of "natural elements" that didn't make the setting look too staged, as well as, pulling in those vintage pieces that emphasized the rustic feel we were aiming for. But after arranging and re-arranging the decor that I had brought, I soon realized that I didn't bring along enough "umph" to make the table pop the way it needed to (catch my drift?).
I wanted to be able to seamlessly tie in the winter greenery without overwhelming the merchandise that needed to be displayed. So what did I do? Well...I took a quick trip into the woods to see what I could scrounge up of course! And I'm glad I did too!
While rummaging through the forest I found some pine tree branches, and pine cones that I knew would tie in perfectly with the look and feel they wanted to achieve on this shoot...now THAT is called being resourceful my friends! Nobody has no know that I didn't know if I was going to be able to pull it off :)
Rosalynne Love Designs not only makes clothing apparel but beautiful, handlettered mugs as well that will make you want to curl up and have a hot cup of cocoa! You can check out her SHOP to see what else she's got cookin'.
This shoot was such a fun experience for me. I loved being able to challenge myself on the fly and work with other individuals that were so encouraging and supportive!
Now you can create that perfect woodland tablescape on your next adventure too! With a little hunting and gathering you will have a seamlessly rustic picnic in no time and for little to no cost!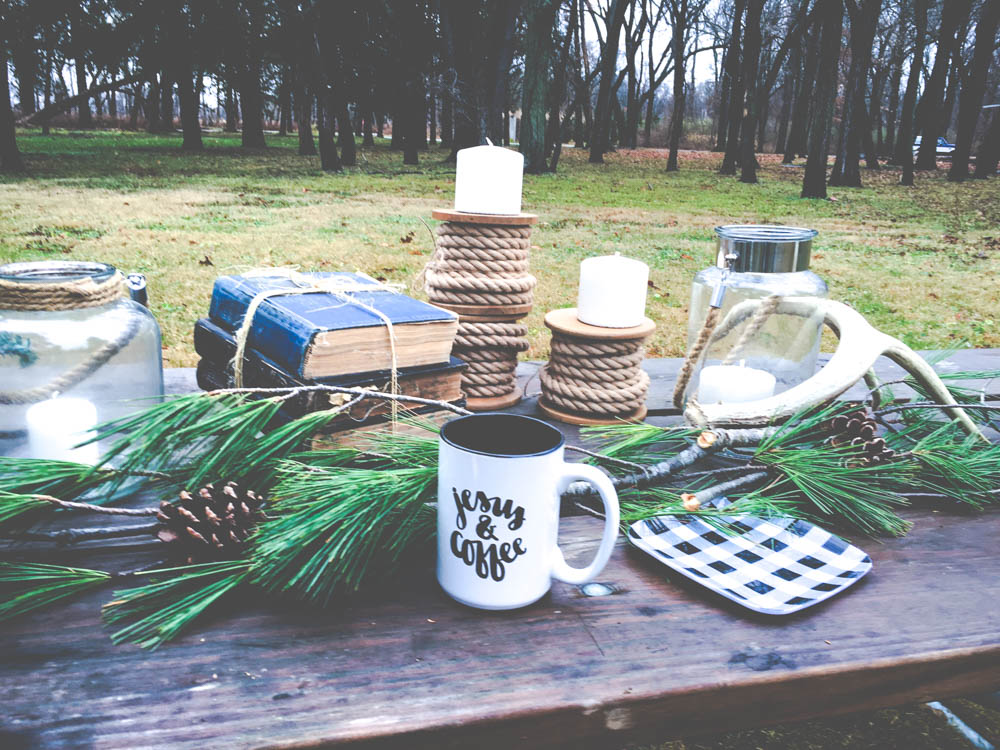 Alisa Greene of Alisa Nicholle Photography is a working college student, based in Central Illinois where she has been pursuing photography since 2009. It is Alisa's dream to not only build her photography career but become skilled in the art of social media marketing. It is an incredible honor to be able to work with this woman on so many different projects and I feel privileged to have worked along side her on so many different collaboration projects. If you are ever looking for an insanely talented and laid back photographer check her out!
Rosalynne Fluty of Rosalynne Love Designs is an incredibly talented designer who recently graduated from Louisiana State University. During her time in school Rosalynne began growing her business in handlettering and printed her first shirt a little over a year ago. Since then her passion for her business has continued to grow and you can now find her merchandise in one or more local shops in Louisiana. It has been such a pleasure getting to know this extremely talented and thriving artist and I feel honored to have gotten the chance to work with her on this project. Oh...and Alisa and Rosalynne are sisters! Pretty cool right!? They are just an insanely creative bunch!
If you're interested in collaborating with me please submit a contact form here. I love meeting new people!